April Verch and Cody Walters
May 29 @ 4:00 pm

-

6:00 pm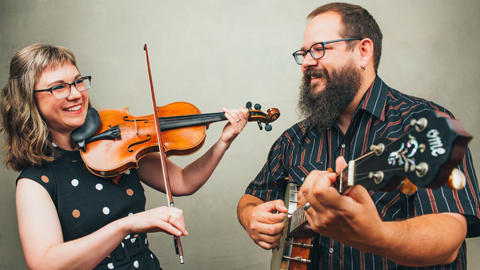 This house concert will take place on the covered patio of the hosts' home in Rockport, Massachusetts. The suggested contribution is $20, payable at the door by cash, check, or Venmo. RSVP to whalecoveproductions@gmail.com to make a reservation and receive the venue's street address and more details.
To listen to April Verch and Cody Walters is to be immersed in tradition. To watch them perform is to be transported. Be it regional Canadian roots, American old-time, 50's Country, Scandinavian folk music, or something original that sounds as though it's been around for a century—the one common thread is their love and reverence for the music and traditions that have been passed down to them.
Husband and wife duo April Verch & Cody Walters is a true partnership of kindred musical spirits, each a world-class musician in their own right. Combining their unique backgrounds from Verch's native Ottawa Valley and Walters' heartland roots in Kansas, their music showcases endless creativity and versatility— transitioning effortlessly from traditional Ottawa Valley step dancing and fiddle tunes, to old-time fiddle-banjo duets with tight-knit vocal harmonies, to innovative sandpaper foot percussion, all contrasted against Verch's sweet soprano voice.
Even now, after more than two decades leading her own band and with 14 albums in her name (two of which were nominated for JUNO Awards, among other honors), there is nothing that fulfills Verch or gives her more joy than playing and sharing her music with the world. "It's like the reward for everything else," she says.