When:
October 14, 2019 @ 7:00 pm – 9:30 pm
2019-10-14T19:00:00-04:00
2019-10-14T21:30:00-04:00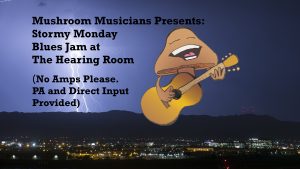 Join us for the Monthly Blues Jam at The Hearing Room. We have a house band to back people up as we get the Blues! Woody Carpinella, Roland Ochsenbein and Tim Fiehler make up the regular band with special guests upon occasion. Sign up is in person and first come first to perform. We usually have 3 song sets but move to 2 song sets is the players get too numerous. This is an amazing evening for players and audience members alike!