When:
April 28, 2019 @ 2:00 pm – 4:00 pm
2019-04-28T14:00:00-04:00
2019-04-28T16:00:00-04:00
Where:
Private home
Cambridge
MA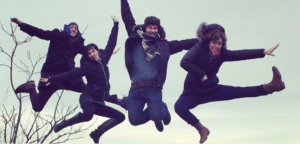 Reservations are required!  HouseConcerts@fssgb.org.  Admission is $20 for this event, or $35 total if you attend this workshop and the Windborne house concert the same evening (in Brookline).
Windborne is comprised of local folk singers Jeremy Carter-Gordon, Lynn Mahoney Rowan, Will Thomas Rowan, and Lauren Breunig. All four were nurtured in the tight-knit, far-reaching New England folk music and dance community, which provides no shortage of mentoring and inspiration as well as opportunities to develop and showcase one's talents. Jeremy, Lynn, Will, and Lauren all come from families actively involved in folk music and dance, and who passed along their love of those traditions to their children. And these four young people took it all to heart and have made something all their own, while retaining a deep respect for the music and what it represents.
There is breadth as well as depth to Windborne's reverence for folk music. They can call up songs from the British Isles or American folk traditions, and their repertoire also extends to Corsica, the Republic of Georgia, Quebec, Bulgaria, the Basque region of Spain, and other parts of the world. And they're folklorists as much as they are folk singers: Not only do they sound perfectly comfortable and natural – without affectation or histrionics – in performing the songs, no matter the origin, they are able to explain the nature of these various kinds of music and the cultures from which it emerged.
But there's another, crucial dimension to Windborne. They are adherents to folk music's longtime association with social activism, in particular its ties to the labor and civil rights movements and others that champion the poor, the working class, and the disenfranchised. Furthermore, Windborne sees its mission as education, not simply performance: They have given workshops and classes around the world in singing and vocal techniques, all the while putting the songs they teach in full historical and cultural context.
In addition to performing concerts worldwide, Windborne has taught workshops in schools, community centers, singing camps, and universities for the past decade. Experienced teachers and song-leaders, they delight groups young and old, large and small, with enthusiastic, clear, and nuanced instruction and get groups singing in harmony in no time! Participants of all abilities will learn singing styles from around the world as well as songs of social struggle from movements past and present. All songs will be taught by ear, no experience required (just enthusiasm and willingness to try new things! The workshops are a great opportunity to connect communities, sing out, and gather inspiration and energy from the music of past movements. They educate as they entertain, telling stories about the music and explaining the characteristics and stylistic elements of the different traditions in which they sing. Windborne strongly believes that singing is powerful—in communities, as performance, with friends, or with strangers. Today it is important that this power is something that we consider—that we can draw upon in other parts of our lives. Music and art are not neutral; songs can give a voice to those who have none, and has the ability change hearts, even when minds are made up. Come and sing out!