When:
May 4, 2019 @ 7:30 pm
2019-05-04T19:30:00-04:00
2019-05-04T19:45:00-04:00
Contact:
Old Sloop Coffeehouse
978-309-9667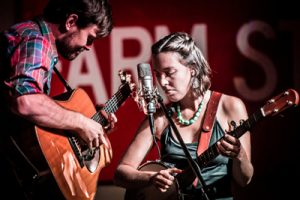 Advance tickets are $10. Visit the website at oldsloopcoffeehouse.org, John Tarr Store in Rockport, or The Bookstore of Gloucester. The suggested contribution at the door is $14 for adults, $9 for those 65 and older, $5 for those under 18, and $28 for families.
Laura Wortman and Kagey Parrish are The Honey Dewdrops: an award winning, internationally touring husband and wife folk duet who perform fresh, original songs focusing on vocal harmonies and tight instrumentation.  Influenced by traditional Appalachian music as well as contemporary singer-songwriters, the Honey Dewdrops blend old styles with new, creating music that is powerful and heartfelt.
Mark Mandeville and Raianne Richards are inheritors of a timeless legacy, creating music that is both original and evocative of a rich tradition. Blending distinctive voices and a wide range of accompaniment (guitar, harmonica, ukulele, clarinet, penny whistle, electric bass), their songs have been well-received by audiences around the eastern United States and Canada since 2010.
Coffee, tea, and a variety of delicious (and very popular) home-made baked pie and cake will be sold before and after the concert and at intermission.