When:
January 4, 2020 @ 7:00 pm – 9:15 pm
2020-01-04T19:00:00-05:00
2020-01-04T21:15:00-05:00
Cost:
$22 Member, $24 Non-Member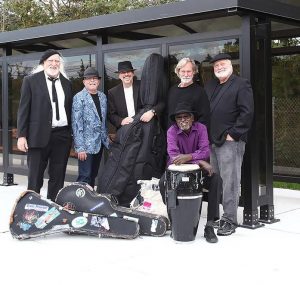 Steve Morgan, a St. Louis, Missouri native, was primarily an acoustic blues guitarist until 1978, when he was asked to play slide guitar in a southern rock band named Easy Street, playing with them for the next 9½ years. Beginning in 1988, Steve filled in occasionally on guitar for several St. Louis blues performers that included Silver Cloud, Johnny Johnson, Henry Townsend, Ron Edwards, and Doc Terry, as well as with other St. Louis blues players. In 1992, seeking a change, Steve moved to Wellfleet MA, and shortly thereafter formed Steve Morgan and the Kingfish.  The band has been winners of the 2015 Boston Blues Challenge, as well as winners of the 2015 Arts Foundation of Cape Cod Spring Talent Search.  Bryant Edwards on congas, percussion and vocals brings a strong R&B vibe to the Kingfish vocal arrangements, while the percussion pays tribute to the jazzy islands flavor that can appear in a Kingfish tune.  Ed Wanamaker has been drumming since his early teens, and spent much of his adult life playing drums on Cape Cod.  Roe Osborn brings terrific harmonies to the group, as well as playing either electric or standup bass with sax player Paulie Lesniak, front and center.  After years of looking around for a master keyboard player, Pete Mann appeared on the scene, quickly offering up a new dimension to their tunes with solid bluesy jazzy chops.  In 1996, Steve and the Kingfish recorded "Boppin' the Blues", a CD of blues covers, followed by "Hurricane" in 2008, a CD of Steve's original tunes which was very well received both nationally and internationally.  Their newest releases include "Blues in Paradise", which injects healthy doses of sweet harmonies and horn-based R&B and jazz into sophisticated and rocking tunes, and "That Ain't Blues" and "I Got a Buzz Coming On", their 2019 releases.