When:
March 9, 2019 @ 7:30 pm
2019-03-09T19:30:00-05:00
2019-03-09T19:45:00-05:00
Contact:
Old Sloop Coffeehouse
978-309-9667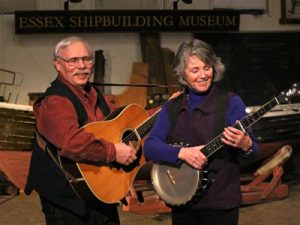 Advance tickets are $10. Visit the website at oldsloopcoffeehouse.org, John Tarr Store in Rockport, or The Bookstore of Gloucester. The suggested contribution at the door is $12 for adults, $8 for those 65 and older, $5 for those under 18, and $24 for families.
Daisy Nell and Capt Stan, with some additional mates in their band Crabgrass, combine the songs of the sea and shore with some bluegrass standards. Daisy Nell and Stan, joined by Jack Schwartz on banjo, Dimitri Eleftherakis on bass, and Maria Wolters on dobro have conjured up a unique sound with a variety of traditional and contemporary folk sources. Always with a grain of salt, Daisy Nell and Stan serve as the main stays of the act. Maria, Dimitri, and Jack take their leads with instrumentals and vocals, along with hearty harmonies.
Olivia Gale and Colin de la Barre are Meridian, a Cape Ann-based duo that specializes in both traditional and contemporary music sung in close two-part harmonies.
This concert was to have featured Nova Scotia duo Naming the Twins. However, illness has forced them to cancel their 2019 US tour.
Coffee, tea, and a variety of delicious (and very popular) home-made baked pie and cake will be sold before and after the concert and at intermission.