When:
February 23, 2019 @ 7:30 pm – 9:30 pm
2019-02-23T19:30:00-05:00
2019-02-23T21:30:00-05:00
Cost:
$10 suggested donation
LINDA MARKS MUSIC
Through both her original songs and other songs that inspire her to sing them, Linda Marks brings her whole heart to the music as she seeks to reach the heart of her audience.
Having worked in the mind-body medicine field as a heart-centered body psychotherapist and life coach for more than 30 years, Linda loves to help others grow and heal through her Power of Voice workshops and coaching.  Bringing  people together and building community through music has fueled her vision for the Music Salon.
Linda released her "Heart to Heart CD" incorporating many of the songs from her October 2014 Heart to Heart Cabaret Show at Amazing Things Art Center in Framingham, on September 16, 2015 at Scullers Jazz Club. She released her "Coming Full Circle" album at Scullers Jazz Club on September 1, 2016. In 2017, Linda released "Say Yes To Love" on September 1 and "Singer/Songwriter" on November 25 to great reviews. Her "Moments" album was released on September 27, 2018 at Club Passim. Linda is currently at work on a sixth album, "In Grace" with Doug Hammer at Dreamworld Productions.
Linda serves on the Board of the Boston Association of Cabaret Artists (BACA).
http://www.lindamarksmusic.com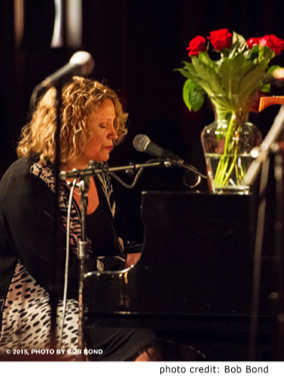 Rick Drost
Rick Drost, a Singer/Songwriter from Cambridge, MA, has been writing songs since the late '60s  with depth and heart: songs  that repay repeated listening and convey a long love of classical music, natural wonders, poetry.  Rick has sung in small and large choruses and small acoustic folk groups, but since the early 2000s has been singing solo at open mikes, small clubs and coffeehouses, galleries and listening rooms in New England, the Midwest and the Southeast.
Since retiring in 2015 from a career as a software engineer, Rick is happily expanding the time he can spend listening, reading, writing, and traveling around singing in small venues and festivals. Rick's first solo album of his songs, "Turning the World", produced and recorded by Jon Shain and FJ Ventre of Durham, NC, was released in June 2017.  Thanks to all the musicians who contributed so thoughtfully to the treatment of these songs- Jon and FJ on strings and basses, Kaitlin Grady on cello, Bill Newton on harmonica and soprano sax, Chris Frank on accordion, Ed Butler on percussion, all in NC, and composer/pianist Doug Hammer in Lynn MA on piano.