When:
October 19, 2019 @ 8:00 pm – 9:30 pm
2019-10-19T20:00:00-04:00
2019-10-19T21:30:00-04:00
Where:
Private home
Cambridge
MA
Cost:
$20 ($5 for students)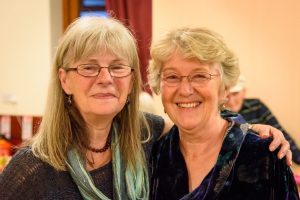 Two events:
Concert: Saturday, October 19, 8pm, Cambridge
Workshop: Sunday, October 20, 2pm, Cambridge
General admission: $20 for each event separately, or $35 if you attend both
$5 each event for students
Reservations required: email HouseConcerts@fssgb.org for reservations and directions.
Carolyn Robson is a professional singer and musician specializing in traditional folk song and dance. Her extensive repertoire consists mainly of songs from her native Northumberland and Scotland as well as from other parts of the British Isles. She has appeared in several groupings, recently as part of trio Dempsey, Robson, Tweed with Kevin Dempsey (guitar and voice) and Karen Tweed (accordion). Along with Moira Craig she was part of the a capella trio Craig Morgan Robson until the untimely passing of Sarah Morgan.
Moira Craig is from East Kilbride, where her family have lived for generations, her grandfather, father and brothers were all singers and musicians. At family parties she and her brothers took turns singing and entertaining. Everyone sang or played and it could be anything from the latest pop song, the old songs and ballads, to music hall or whatever anyone fancied singing. Moira moved to London in 1983 to work as a nurse and singing has taken up most of her life outside of work since that time. She has long been recognized by club and festival goers for her superb interpretations of Scottish, Irish and English songs and ballads. A former winner of the "Sidmouth Singer of the Year" award, Moira became more widely known through her contributions to the Pastimes albums. She also has a solo album, "On Ae Bonny Day". Moira has appeared in Britain, Germany and the USA, charming audiences with her clear ringing voice and wonderful repertoire.
Specifics about the workshop will be provided soon.