When:
November 15, 2019 @ 8:00 pm – 9:30 pm
2019-11-15T20:00:00-05:00
2019-11-15T21:30:00-05:00
Where:
Private home
Newton
MA
Cost:
$20 ($5 for students)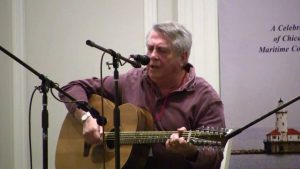 Reservations required: email HouseConcerts@fssgb.org for reservations and directions.
Ed Trickett has been collecting and interpreting traditional and tradition-based folk songs for almost four decades, and has appeared on over 40 recordings and as a featured guest on Garrison Keillor's NPR radio show A Prairie Home Companion. His repertoire includes a wide range of ballads, sea songs, songs of love and "an occasional song of no consequence whatsoever." In addition to his solo career, Trickett is well-known to New England audiences for having been a member of the celebrated trio Bok, Muir and Trickett, with whom he recorded ten albums and performed for 26 years.
For his day job, he is a professor of psychology. He looks for the hidden truths in songs, and sings them to us in a manner that gives us a new meaning to old songs. Usually playing guitar, and singing in a very gentle manner, Ed is also an accomplished piano player. He doesn't consider himself as a "professional" musician, but he is indeed a professional in every sense of the word. The songs he has recorded alone, with Anne Mayo Muir and Gordon Bok, and with other artists are some of the most beautiful ever recorded.