When:
October 5, 2019 @ 7:30 pm – 10:00 pm
2019-10-05T19:30:00-04:00
2019-10-05T22:00:00-04:00
Contact:
Old Sloop Coffeehouse
978-309-9667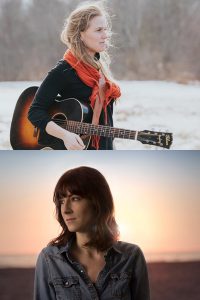 Advance tickets are $10. Visit the website at oldsloopcoffeehouse.org, John Tarr Store in Rockport, or The Bookstore of Gloucester. The suggested contribution at the door is $12 for adults, $5 for those age 18 and under, and $24 for families.
Caroline Cotter takes listeners all over the world and into the depths of the human heart. Her songs are tinged with raw emotion and brimming with honest, soul-searching expression. With a captivating soprano voice and award winning songwriting, Caroline has performed over 700 shows in 45 states and 13 countries.
Raised on New York City's Roosevelt Island, Emily Mure sharpened her songwriting chops while studying music at Ithaca College and busking on the streets of Galway, Ireland. She later returned to New York to pursue her songwriting career in the same city that hosted her grandfather, guitarist and songwriter Billy Mure. Over the course of three acclaimed albums, she has cracked the Top 10 on the Folk DJ Charts, showcased at the International Folk Alliance conference, toured internationally, and seen her music featured on NBC, ABC, and PBS.